European aid to Ukraine has significantly surpassed commitments from the United States, with Europe's total promises of support now being double that of the US
The Ukraine Support Tracker at the Kiel Institute for the World Economy, a system that monitors these contributions, highlighted Europe's rapid mobilization in offering multi-year support to Ukraine.
"For the first time, the US is now clearly lagging behind," says Christoph Trebesch, the lead of the Ukraine Support Tracker initiative.
Trebesch points out the striking shift from the US's leading position in aid during the war's initial year.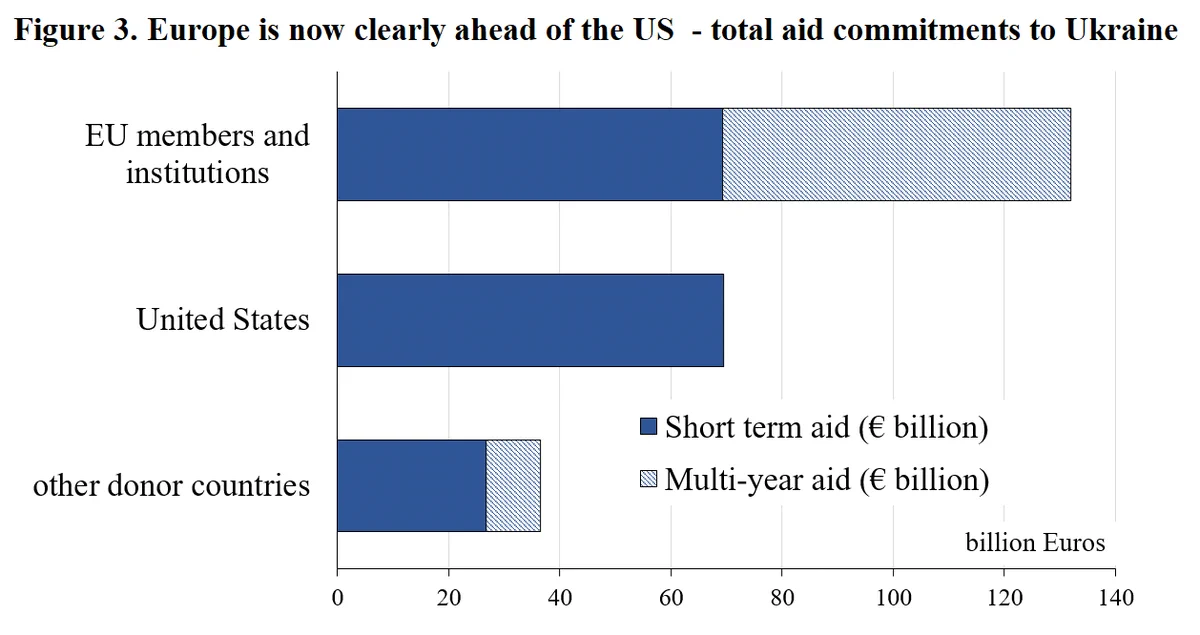 The disparity largely attributes to the European Union's newly announced €50 billion "Ukraine Facility" and augmented support from other European nations.
In terms of sheer numbers, when pooling the commitments of both EU and non-EU European nations (including UK, Norway, and Switzerland), the total aid pledged reaches a staggering €156 billion. In contrast, the US's contribution falls short at less than €70 billion.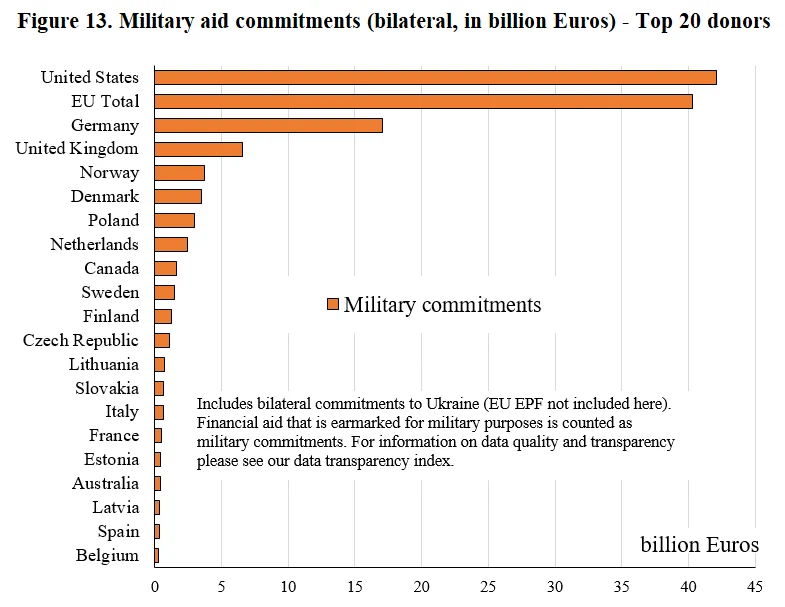 During the summer, the European Union cemented its support to Ukraine by launching the "Ukraine Facility," a multi-year package worth €50 billion intended for disbursement between 2023 and 2027. This package, secured within the EU's budgetary framework until 2027, underscores the EU's enduring commitment to backing Ukraine.
Beyond the colossal EU package, individual European nations have also made hefty multi-year commitments. Germany stands out with its 4-year military support package valued at €10.5 billion (for 2024-2027). Norway follows closely with its "Nansen Support Program," a five-year commitment worth €6.6 billion. Other significant contributors include Denmark, the UK, Switzerland, Sweden, Portugal, and Lithuania.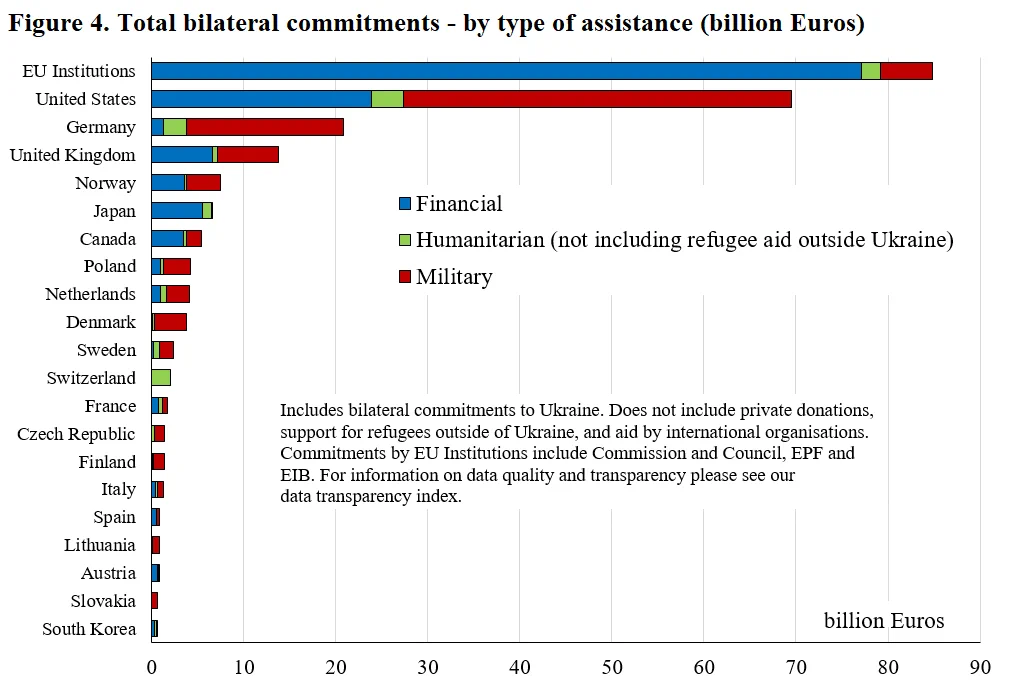 In terms of short-term commitments, Germany pledged an additional €619 million, while the UK added €286 million to their contributions.
The updated Tracker now also encompasses commitments from June and July 2023, thereby covering pledges made from January 24, 2022, to July 31, 2023. It has also begun to meticulously record multi-year packages, forecasting up to five fiscal years ahead.
Norway has now emerged as Ukraine's largest benefactor when analyzed as a percentage of GDP, dedicating 1.7% of its GDP towards Ukrainian aid. Following Norway in terms of generosity are Lithuania, Estonia, and Latvia. Denmark has now clinched the fourth position, primarily because of its Danish National Ukraine Fund, which has set aside nearly €3 billion for Ukraine, primarily for military aid in 2023 and 2024.
Regarding the "Nansen Support Program" from Norway, out of the €6.6 billion fund, half is specifically earmarked for military aid, reflecting the pressing need for defense in Ukraine against the Russian aggression. The remaining half focuses on financial and humanitarian assistance, illustrating a comprehensive approach to supporting Ukraine in its rebuilding and developmental endeavors.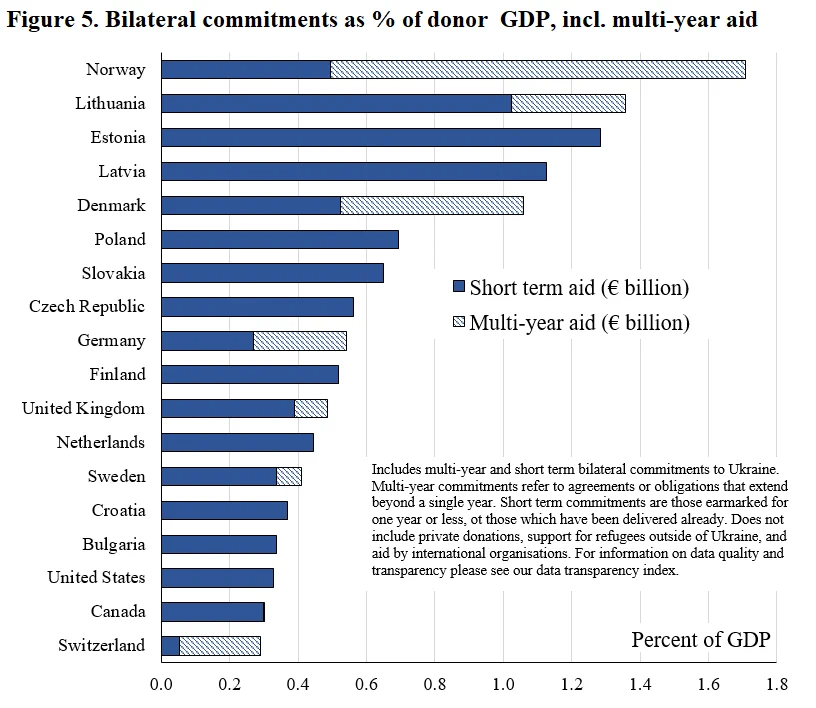 Regarding heavy weaponry, although commitments are high, actual deliveries lag. For instance, while the delivery rate for systems pledged has grown by five percentage points, standing at 69%, actual deliveries of tanks, artillery shells, and anti-air missile systems remain considerably below the promised numbers.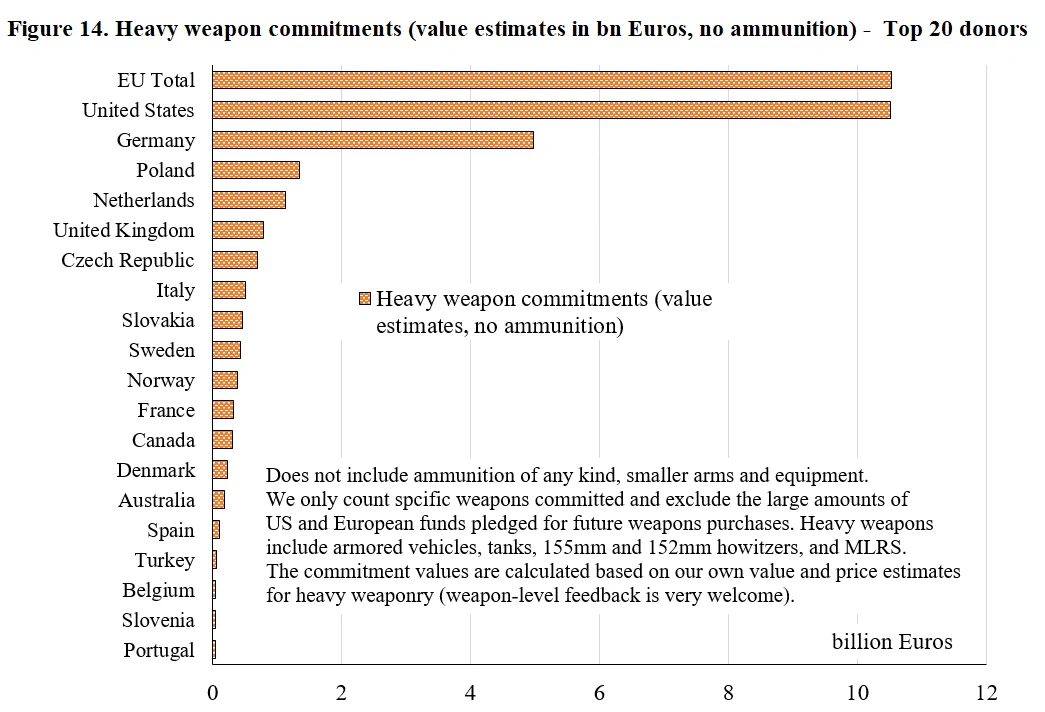 Germany now claims a substantial chunk of all EU's commitments on heavy weapons. According to Trebesch's estimates on Twitter, Germany is responsible for almost 47% of total heavy weaponry pledged by the EU, closely mirroring the US's contributions in this domain.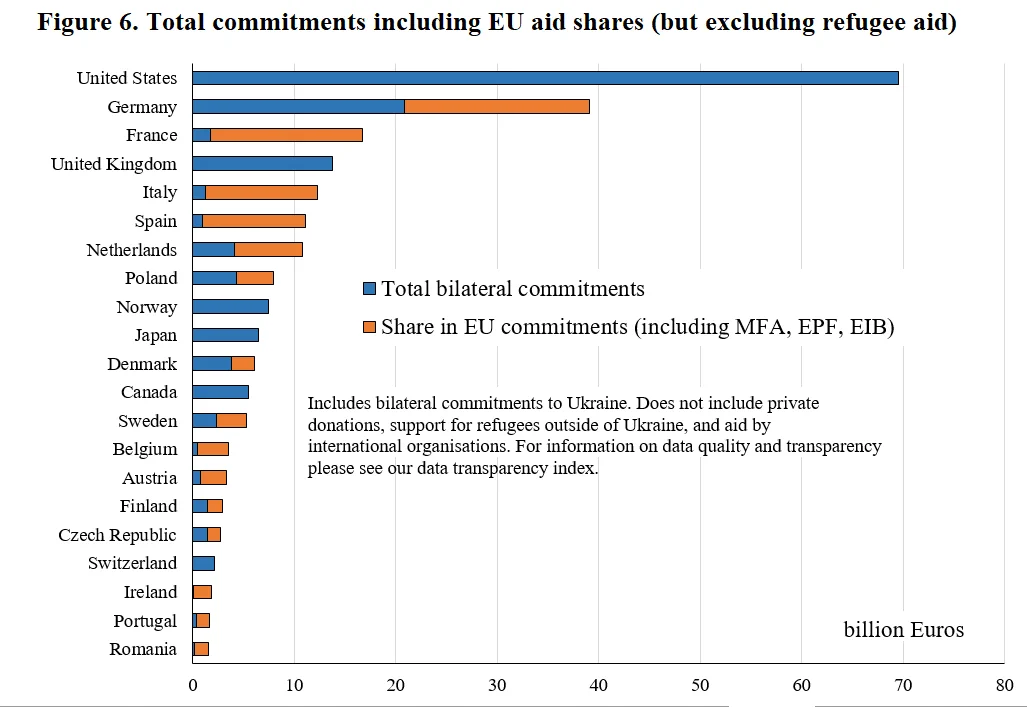 While the promises are substantial and commendable, Trebesch cautions, "It remains to be seen how much will actually be delivered and when." Historical patterns indicate European donors' occasional delay in actual deliveries, something Trebesch hopes will change in the future.
The Ukraine Support Tracker lists and quantifies military, financial, and humanitarian aid pledged to Ukraine since January 24, 2022 (currently through July 31, 2023). It covers 40 countries, specifically the EU member states, other members of the G7, as well as Australia, South Korea, Türkiye, Norway, New Zealand, Switzerland, China, Taiwan, and India. Also, EU institutions are included as a separate donor. The tracker lists government-to-government commitments; private donations or those from international organizations such as the IMF are not included in the main database. Flows going into other countries like, for example, Moldova, are not included. With regard to sources, the database combines official government sources with information from international media. Aid provided in kind, such as medical supplies, food, or military equipment, is quantified on the basis of market prices or information from previous crises involving government aid. In case of doubt, upper bounds of prices are used.
Source: Euromaidan Press