Australia will send a highly capable aircraft to Europe to bolster Ukraine's war effort.
Australia is "confident" the deployment of a highly capable surveillance aircraft to Europe will make a "significant contribution" to the ongoing effort in Ukraine.
In Berlin overnight, Anthony Albanese announced that the government would deploy an E-7A Wedgetail aircraft for six months from October, to be based in Germany, to help monitor the flow of military and humanitarian supplies into Ukraine.
Mr Albanese's announcement came ahead of his travel to Lithuania for the NATO summit, set to be dominated by talks about the ongoing war in Ukraine.
The Wedgetail – which features a long-range surveillance radar and can track airborne and maritime targets simultaneously – will protect multinational logistics hubs that have been feeding critical supplies into Ukraine.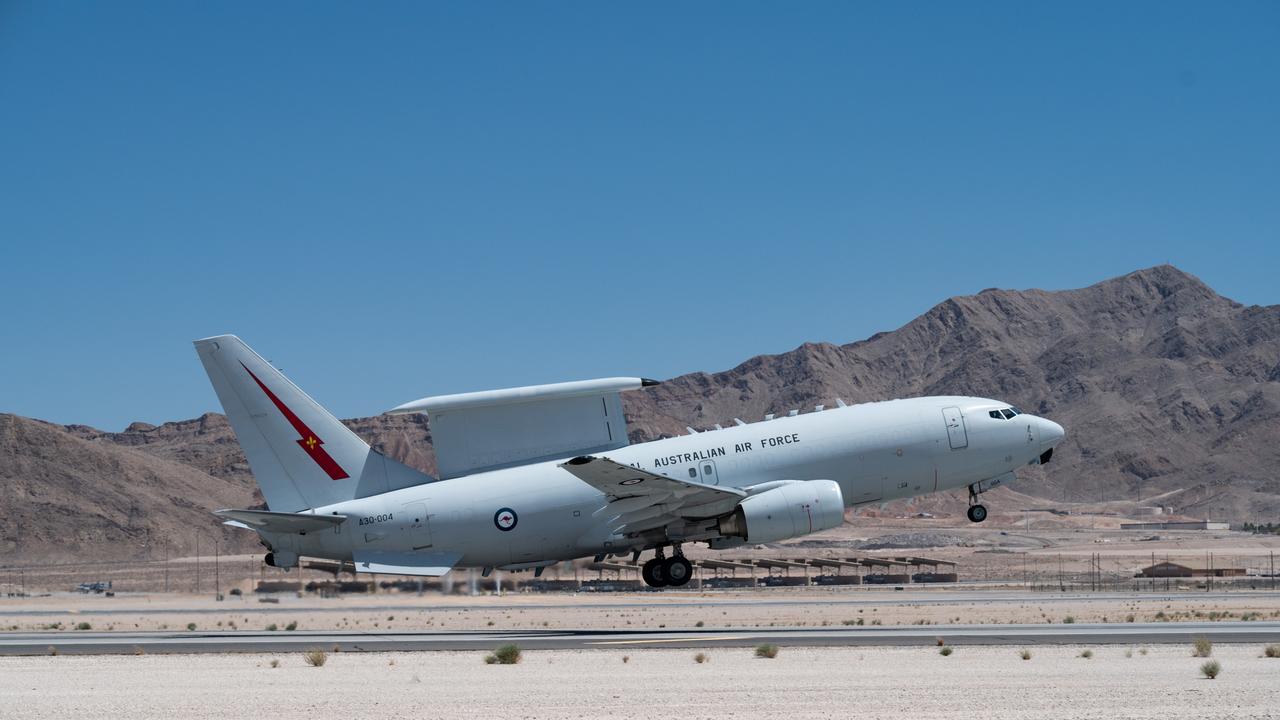 A Wedgetail will be deployed to Europe to help protect Ukraine assistance hubs. Picture: U.S. Air Force / Airman Trevor Bell
Its deployment, as part of Operation Kudu, is considered the closest move Australia could make to putting boots on the ground, without putting boots on the ground.
Up to 100 Australian personnel will be sent to Europe as part of the Wedgetail's launch, with the government at pains to point out the troops will not be based in Ukraine, Russia, or Belarus.
The latest round of assistance comes just weeks after the government announced a $110m military and humanitarian package, which notably did not include the Hawkeis and Bushmasters Ukraine has long been requesting.
Asked about why Australia still hadn't sent the armoured vehicles over, Defence Minister and Deputy Prime Minister Richard Marles said Ukraine was "very grateful" for the support so far provided.
"I think there's an acknowledgment through Ukraine and across Europe and the world that Australia is punching above our weight in terms of the support we're providing, and now that Sweden is going into NATO, Australia will become the largest non-NATO contributor in the effort of supporting Ukraine in the conflict," he told ABC News.
"And it's gratefully received.
"What Ukraine has been doing in their conversations with us is giving us … a menu o f the kinds of platforms that could provide assistance to them, and then we've been looking at that and working out what assistance we can then provide."
In Berlin overnight, Mr Albanese said while Australia was a long way from Europe, the war had served as a reminder that today's world is "interconnected" and "globalised".
"An event such as the land war in Europe has had an impact on the entire world," Mr Albanese said.
"We've been impacted by our economy, as well as we've been shocked by the brutal invasion, and the disregard for the international rules based order, which we had come to think was something that we hoped would be a permanent presence.
"So it's important that the democratic world react to defend the rules based order."
He said the contribution was "very significant" not only for what it could do, but what it symbolised.
"Which is Australia's commitment to doing what we can to provide the appropriate resources which will maximise the impact of Australia's contribution to support the integrity, and borders, and sovereignty of Ukraine," he said.
Source: News